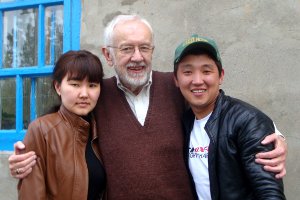 27 April 2013
We are now a bit over one week into our twenty-seven month commitment to the US Peace Corps, and my netbook computer must be anxious for me to get on with the tasks at hand. In the middle of this sentence it suddenly switched to Russian (a simple matter – shift/alt toggles between the two languages. How I wish that it were as easy for me to make that shift.). There are 38 of us here, mostly ages 22-30. One 49 year old. And myself as the senior volunteer in this group. Only five of us are learning Russian. The others are learning Kyrgyz, which is used by most people in most parts of the country.
I'm living with a Russian-speaking family in a small village about 20 km from the capital, Bishkek. Husband and wife and two adult children. The picture shows me with Aziza, my host sister (R. syestra), and Arstan, my host brother (R. brat). We're all struggling with the language barrier but bit-by-bit, as I learn more words and ways to say things, we're communicating. They are taking very good care of me. The food is, of course, quite different, plentiful and delicious. Fresh bread every day from the bakery, the very best home-made dill pickles and hearty soups which are more like stews. Tea (chai in Russian, as in Hindi) and coffee (pronounced "kawfyeh" with accent on the last syllable) are always available.
This is a farm village We have 4 milking cows, many chickens, some ducks, one rabbit, three dogs. Our farm, including three cows at another location, produces about 100 litres of milk every day. Chained at the back of the farmyard, the biggest dog, on the first evening I was here, told me in no uncertain terms that I must watch my p's and q's on his farm. After that he simply barks a friendly greeting as I go to the outhouse. He knows that I am now part of this family.
We've completed one week of the seven week training (Cross Cultural / Technical / Language) which will prepare us for the work we'll be doing. I'm finding the intensive language training exceedingly stressful. We've only six more weeks to master, as nearly as possible, a very difficult language. I find myself often slipping into Hindi (using "ha" rather than "da" for "yes). I'll continue to struggle with the language during this seven weeks of training. I am under no illusion about the possibility of my achieving any sort of mastery before I am assigned to the university in which I will be joining the English Language faculty. There, team teaching with an English teacher on the staff I will be using more English than Russian, as my Peace Corps task is to help students and staff improve their English skills. Day by day they will surely help me to improve my Russian skills.
I am here in Kyrgyzstan because I know that the sum of many different experiences of every day for this group of 38 volunteers will make a larger impact than any one of us might imagine toward this world's urgent need for peace.