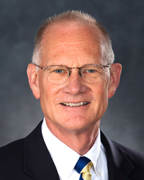 Pierce Murphy has been the Director of SPD's Office of Professional Accountability since July 1, 2013. He has extensive experience in law enforcement in both civilian and sworn positions.
After receiving his baccalaureate and master degrees, Pierce started a successful career in human resource management and consulting. Pierce has been active professionally in the field of civilian oversight of law enforcement and has advised cities and counties across the United States on this topic. He is a past president and former member of the Board of Directors for the National Association for Civilian Oversight of Law Enforcement (NACOLE). Pierce has been a proud member of Rotary since 1988, is a past president of the Rotary Club of Boise, and currently a member of the Emerald City Rotary Club.
Pierce spent over 14 years as the Community Ombudsman for the City of Boise in Idaho. As Boise's first ombudsman, Pierce created Idaho's first and only civilian oversight of law enforcement agency. It was a new position created to investigate complaints against the Boise police, recommend policy changes and rebuild trust between the police department and the community. Since the ombudsman's office opened, complaints against the Boise Police Department have decreased by more than half.
During his time as Director of the OPA, he has moved OPA's operations outside of SPD headquarters and created a more welcome environment for visitors. He also plans to hold regular public office hours and separate his division's website from the police department's. Future goals for the division include strengthening the division's independence in order to provide better oversight, improve accessibility for citizens and promote transparency in the process.