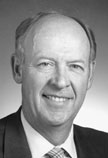 Bill Feldt is retired president and CEO of Flohr Metal Fabricators, Inc., an international company based in Seattle that manufactures seafood processing equipment and undertakes large-scale metal-fabrication projects for industrial clients. He also served as a trustee of Carleton College from 1995 to 2013.
Bill is the current World Community Service Chair of the Rotary Club of Federal Way, which recently partnered with the Rotary Club of Kalulushi in Zambia's Copperbelt Province in a $53,000 Rotary Matching Grant Project providing 100% bed net coverage for nearly 2,000 households in 10 rural communities within Kalulushi District.  The objectives of the project were to reduce the incidence of malaria by 50% – 70% in the target communities through the distribution of 5,400 long-lasting, insecticide treated nets and education of villagers in malaria prevention.
Rotarian Malaria Partners connects International Rotarians together with Zambian Rotary Clubs to work in concert with PATH's Malaria Control and Evaluation Partnership in Africa (MACEPA) and the Zambian Government's National Malaria Control Centre to fight malaria. Each participating Zambian Club develops its own project in cooperation with local community leaders and health authorities. The Zambia Rotary Malaria Steering Committee brings Club leaders together with MACEPA and government partners to develop projects that help implement the country's national malaria control strategy. Approved projects are sent to the International Steering Committee in Seattle, comprised of Rotarian and MACEPA leaders. They engage International Clubs to become project funding and implementation partners.
This is the first Rotary anti-malaria initiative on a national scale with a professional partnership. Its goals are to help reduce Zambia's 3 million cases of malaria and to develop a replicable and sustainable model for Rotarian service to eradicate malaria in Africa. Participants integrate and implement local Club projects as part of the government's national malaria eradication campaign.
Zambia has rapidly scaled up its national malaria control program with dramatic results. In just two years, the country was able to decrease the number of malaria cases in young children by more than half. In December 2010, the country released the results of its third national malaria indicator survey — the first country to reach this milestone. The survey, which measures progress in fighting the disease and generates data critical to program planning and implementation, found that nearly 75 percent of the population was protected by either insecticide-treated bed nets or indoor residual spraying and more than two-thirds of all pregnant women took the recommended two doses of anti-malarial medication during pregnancy. The country has successfully created a strong, united malaria control partnership, and is considered a leader for malaria control in the region.
http://rotarianmalariapartners.org/about-us/