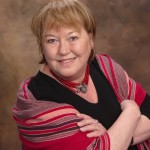 Carol is a businesswoman and an activist.  Through her consulting practice over the past 30 years, she coaches management teams to be inspirational leaders and works with micro-credit institutions around the world.
She formed the Fabric of Life Foundation in response to the poverty she sees while working in developing countries.
Carol recently spent 5 weeks in Liberia, setting up savings groups to address food stability issues in this war-torn country.  She works in Africa, Asia and Eastern Europe helping low income access affordable savings and credit institutions.  She established a training center in West Africa to help girls go from begging to skilled artisan.
Carol will talk about how cooperative micro-finance is making a world of difference.