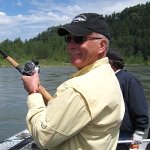 Dick Anderson
Owner, System Three Resins
http://www.SystemThree.com

I arrived on the scene in St. Paul, Minnesota. I lived there until I was 11 when my father decided he was fed up with Minnesota winters. One day he brought all my hockey gear to the ice rink and gave it away telling me I wouldn't need it anymore because we were moving to California. We ended up in Sacramento where I attended Junior High and High School. I did well enough to get a scholarship to Stanford University. I had aspirations of becoming a doctor but I soon realized that, while I had no doubt I would be a good doctor, it was clear that I was not going to be a good medical student. There were simply too many distractions. So, after taking a year off to join the Army Reserve in Hawaii, I finished my degree in Biology at Stanford in 1970.

I got into sales as a pharmaceutical "detail man" calling on doctors and pharmacists. It wasn't easy for a 23 year to tell the old doctors in San Francisco which drugs to prescribe and I knew that I wanted to get out on my own. Over the next few years I helped to start several businesses including a chain of shops for home wine and beer makers and a car stereo installation business. While none of these ventures were big successes I emerged with a lot of small business experience that has served me well.

One of the companies that I helped to start was a chain of home stereo stores. They sent me to Seattle in 1978 to open new stores. I met Janet soon after I arrived and we were married in 1980. Jeff was born in 1982 and I sensed that my roaming days were over. From selling stereo equipment I jumped to the retail computer business and then to Egghead Software where I became Vice President of Corporate Sales. After 10 years with Egghead I bought a small business in Seattle making specialty chemical products called System Three Resins. For the past 15 years I have been having a blast building a company with great products and dedicated employees.

In 1986 I made one of the best decisions of my life when I joined our Rotary club. I was honored to be president of the club in 2000-01 and for the past 10 years have enjoyed working the front desk welcoming you to our weekly meetings.