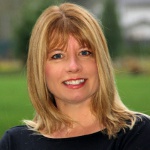 Shari Storm
Author and Executive
http://www.ShariStorm.com

Shari Storm has been a Rotarian since 2006 and an executive in the credit union industry since 1998.

Shari has an undergraduate degree in speech communications from the University of Washington and earned her MBA from Seattle University. She published her first book titled, Motherhood is the New MBA: Using Your Parenting Skills to be a Better Boss. Having sold almost 7,000 copies in North America, her book has been translated and published in China and was purchased for publication in Brazil.

Shari mentors at Seattle University's graduate program. Her accomplishments also include presenting at a TEDx event, leading a group of business people to teach free enterprise in the communist country of Belarus and raising three daughters.

You can learn more about Shari at www.ShariStorm.com.