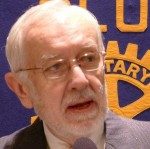 WarrenHall Crain
I've been a Rotarian since 1975, having been first introduced to Rotary in 1962 in Kodiak, Alaska. I've been a member of several clubs in our district, beginning with Burien/White Center, then Seattle Industrial (which changed its name several times), where I served as President for a year and a half, then Emerald City for the past ten years or so.
I am a Major Donor to The Rotary Foundation, as I believe that our foundation funds some of the most hopeful and helpful programs in this world – including Ambassadorial Scholarships, Youth Exchange and Group Study Exchange.
I've been involved in several international Rotary projects in India, The Fiji Islands and Jamaica. And, of course, also in many of our club's local projects. I've been proud to be a Rotarian and proud to be a member of The Rotary Club of Emerald City. Nearly half of the last twenty years I've spent in India, living in the small temple town of Khajuraho and working in Rotary projects around the country, including reforestation in The Himalaya, a school water and sanitation project in Kerala, and teaching English in central India.
I am currently (15 April 2013 – 15 July 2015) on a 27 month assignment as a volunteer with the US Peace Corps, teaching English in a university in The Kyrgyz Republic.
Read my Our Man in Central Asia posts to keep track of what I am doing over these years.