Check back soon for information on another great program at ECR!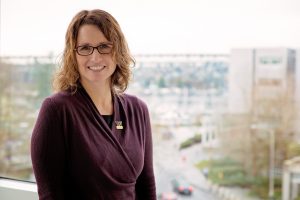 Dr. Gray has been a faculty member in the UW Department of Pharmacy since 1995. In 2016, she was named the Shirley & Herb Bridge Endowed Professor, Department of Pharmacy, and Director of the Plein Center for Geriatric Pharmacy Research, Education and Outreach. She is an investigator on numerous federally funded research grants and is author of more than ninety peer-reviewed publications. Earlier in her career, she received an American Association of Colleges of Pharmacy New Investigator Award and a Career Development Award from the National Institute on Aging. She serves on the editorial board for the "Annals of Pharmacotherapy", "Journal of the American Geriatrics Society" and "Research in Gerontological Nursing." Her research into the link between anticholinergic medications and dementia went viral in 2015 and continues to generate emails and questions from all corners of the world to Dr. Gray.
Dr. Gray has served as a consultant pharmacist for Providence Elderplace. Previously, she completed a two-year fellowship in geriatrics at the University of North Carolina at Chapel Hill and a clinical pharmacy residency at Thomas Jefferson University Hospital in Philadelphia. She has served on various committees of pharmacy and geriatric professional organizations.