Reunion and Changing of the Guard Party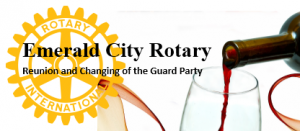 Please join us to celebrate the conclusion of President David's year and reconnect with current and former members of Emerald City Rotary.
Who: Current and Former Members of Emerald City Rotary and their guests.
When:  June 30, 2015:  6:30 PM
Where:  Seattle Yacht Club – Elliott Bay Outstation (by Palisades in Magnolia)
Featuring:  A Presentation about Washington Wines from the President of the Washington State Wine Commission.
Also Featuring:  Authentic Cuban & Creole from Geos.  Register today for only $45! (early bird expires on June 18th.
Or use the form below to register right here: