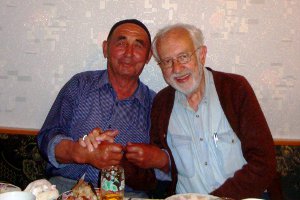 10 May 2013
Studencheskaya, Kyrgyzstan
You've heard me say that before, and I am abundantly sure that I will say it again and will many times think it. I am only a few days more than three weeks into my 27 months of Peace Corps service here in The Kyrgyz Republic, which we here usually refer to as Kyrgyzstan, using a name which has officially been replaced.
During our seven weeks of Pre-Service Training I am staying with a host family in a village close to the capitol city of Bishkek. This evening my host mother invited me to go with them to her father's for a birthday party for one of his granddaughters. I've been in that home before, but only for lunch. Tonight was a full dinner, a grand spread, for the whole family – a bolshoi semya (big family) — and many friends. Even after finishing a sumptuous dinner platters of roast chicken and potatoes were brought out and people filled their plates once again. People came and went and platters on the table were refilled again and again.
I'd met the patriarch of this bolshoi semya before and knew that he is a grandfather. He and I have become vyernie druegee (faithful friends). In my very sketchy Russian and his total lack of English we talked and laughed through the evening in the midst of his bolshoi semya, and I discovered that, like me, he is a great-grandfather, AND we are the same age. He told me that he wants to come to America and open a restaurant. Totally unpracticable, as he well knows.
On the wall behind my faithful friend was a rich tapestry depicting the Kaaba in Mecca. So I asked him whether he had made the Haj (the pilgrimage to Mecca which is the responsibility of every Muslim who is able to go). When he said that he had not I began urging him to go. So, we talked about making the Haj together. Almost certainly out of the question for me, but I very much hope that he will go. Then he will die his beard red and I will be able to honour him as a Haji.
It was only a birthday party, but I came away immersed in the happiness of this traditional Kyrgyz evening and saying to myself once again, "I am a man most blest."