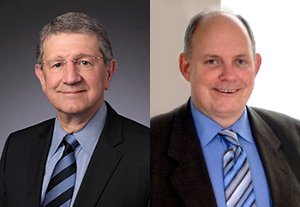 Doug Kemper and John Brisland will be speaking to us about import/export assistance to small businesses.
Here's Doug's bio:
Doug Kemper joined the Export Finance Assistance Center of Washington as President and CEO in August 2012.

Doug has over 35 years of commercial banking and trade finance experience with regional and community banks based in Seattle, Portland and Los Angeles including Rainier/Security Pacific Bank, KeyBank, Washington Mutual Bank and Commerce Bank of Washington. He commenced his financial services career as a US Treasury Department/OCC National Bank Examiner based in Seattle and London.

He has served on the board of directors of several international business and educational organizations including as the Chairman of the Trade Development Alliance of Greater Seattle and the World Trade Center Tacoma.

Doug is a graduate of Oregon State University with a BS degree in International Business and the Pacific Coast Banking School.
John Brisland is the Director of the Seattle Regional Office for the Export-Import Bank of the United States.
Here's more about the Export-Import Bank of the United States:
The Export-Import Bank of the United States (Ex-Im Bank) is the official export credit agency of the United States. Ex-Im Bank's mission is to assist in financing the export of U.S. goods and services to international markets.

Ex-Im Bank is focused on helping U.S. small businesses and has a dedicated team to assist them with the following solutions:

Risk Protection – Making international sales is challenging enough without worrying about getting paid. Ex-Im Bank's export credit insurance policy provides payment coverage for both commercial risks (such as buyer default) and political risks (such as war). The Bank protects sales to a single buyer or an entire export portfolio.

Extend Credit to Buyers – The insurance also enables exporters to sell on competitive "open account" terms, instead of requiring cash-in-advance or costly and complicated letters of credit. Businesses will no longer forego sales because they cannot match the credit terms offered by global competitors. Furthermore, insured foreign receivables may be used to increase an exporter's borrowing base with a lender, thereby accelerating cash flow.

Working Capital – Ex-Im Bank can help U.S. companies obtain vital loans to fulfill export orders. An Ex-Im Bank guaranteed credit line may be used to purchase finished products, pay for raw materials, supplies, labor and overhead, and even cover standby letters of credit used as performance or bid bonds. The Bank's guarantee turns an exporter's inventory into eligible collateral for the lender.

Term Financing – Foreign buyers may obtain competitive financing (with extended repayment terms) to buy U.S.-made capital goods and services.
Join us to learn how businesses can get help with their imports and exports!