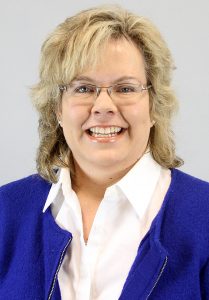 Kim Durand Bio
Kim Durand serves as UW's Senior Associate Athletic Director for Student Development.  In
her role, Durand manages all student athlete academic services.  Additionally, she works actively
on enhancing life skills of student athletes, as well as race and diversity initiatives.
On campus, she is the athletic department's liaison to the faculty.
Durand is also actively engaged in the National Association of Academic Advisors for Athletics
(N4A).  She served as the National President from 2014-15 and is currently the Liaison and
Coordinator for the NFL Trust Degree Completion. She has also served the N4A as the Director
of the Professional Development Institute since 2005 and has served on several NCAA
committees and special projects in the areas of student-athlete development and at-risk student-
athletes.
In 2010, Durand received the N4A Model Practice award for her work creating the University of
Washington summer LEAP (bridge) program.  She was awarded the 2011 N4A Lan Hewlitt
award, recognizing sustained professional service in the field of academic advising for student-
athletes and significant contributions to the field through professional involvement, development,
and leadership in university affairs.
Previous to her time at UW, Durand served as Assistant Athletics Director for Academic
Services at UCLA from 1999-2005. Her experience also includes acting as Associate Director of
Degree and Career Counseling in the University of Kansas Athletics Department from 1994-
1999.
Durand earned her Bachelor's degree in Rhetoric & Communication and Psychology in 1991
from the University of Oregon.  She went on to earn her Master's in Educational Policy &
Management, with an emphasis in higher education administration from the University of
Oregon in 1994.