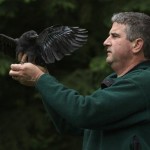 John Marzluff, Ph.D., is James W. Ridgeway Professor of Wildlife Science at the University of Washington.  His graduate (Northern Arizona University) and initial post-doctoral (University of Vermont) research focused on the social behavior and ecology of jays and ravens.  His current research brings this behavioral approach to pressing conservation issues including raptor management, management of pest species, and assessment of nest predation.  His book, In the Company of Crows and Ravens (with Tony Angell, 2005 Yale U. Press) blends biology, conservation, and anthropology to suggest that human and crow cultures have co-evolved.  This book won the 2006 Washington State Book Award for general nonfiction.  PBS's NATURE featured his raven research in its production, "Ravens," and his crow research in the film documentary, "A Murder of Crows."  His research has been the focus of articles in the New York Times, National Geographic, Audubon, Boys Life, The Seattle Times, and National Wildlife.
Gifts of the Crow (2012 Free Press) applies a neurobiological perspective to understand the amazing feats of corvids. The ongoing connection between humans and crows—a cultural co-evolution—has shaped both species for millions of years. And the characteristics of crows that allow this symbiotic relationship are language, delinquency, frolic, passion, wrath, risk-taking, and awareness—seven traits that humans find strangely familiar.
With his extraordinary research on the intelligence and startling abilities of corvids—crows, ravens, and jays—scientist John Marzluff tells amazing stories of these brilliant birds in Gifts of the Crow, shining a light on their fascinating characteristics and behaviors.
The below video is John's TedxRainier talk, which he gave in November, 2013.