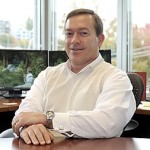 Monty Montoya is the CEO of SightLife, a Seattle-based global health organization. SightLife is the only non-profit global health organization solely focused on eliminating cornea-related blindness in the U.S. and around the world. Monty has been the CEO of SightLife since 2004, and since that time, the organization's growth has burgeoned from a modest $2 million to more than $20 million in the last 10 years, with close to $12 million reinvested back into sight-related programs for low-income populations domestically and abroad.
Monty is a recipient of the Puget Sound Business Journal's 40 Under 40 award and was also the recipient of the Eye Bank Association of America's coveted Heise Award, given to a non-medical individual who has made the greatest contribution to advancing the cause of eye banking.
Driven by an entrepreneurial spirit as an eye bank, SightLife leverages innovative technologies and best business practices to transform lives and unlock life's possibilities for the corneal blind. SightLife works in partnership with surgeons and health organizations in more than 30 countries and SightLife and its partners combined provided more than 17,000 corneas for transplant in 2013.