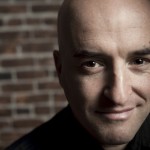 Greg Bennick is a professional speaker, humanitarian activist, and award-winning producer and writer. He has appeared at thousands of events since 1984 as a keynote speaker and entertainer. He speaks on themes related to communication, connection, and managing the unexpected/change, to organizations worldwide. His artistic work focuses on projects which explore the depth and range of the human experience, including "Flight from Death", a seven-time Best Documentary award-winning film narrated by Gabriel Byrne which uncovers anxiety about mortality as a possible root cause of many of our violent and aggressive behaviors. The film is regularly screened worldwide, most recently on The Discovery Channel in Canada, and was called, "one of the most ambitious documentaries ever made," by PBS Australia.
After the massive earthquake struck Haiti in January 2010, Greg founded One Hundred for Haiti, a direct action organization that supports relief and development projects in Haiti. Proceeds initially supported Dr. Jacques Denis and his work at a medical clinic that serves 60,000 people in one of the poorest neighborhoods in Port-au-Prince. Supported by One Hundred For Haiti, Dr. Denis committed himself to giving away all medicine and medical care in the weeks after the earthquake. One Hundred for Haiti helped rebuild the clinic as well, hiring local workers to repair structural damage to the clinic that occurred in the quake. The organization continues to support Dr. Denis in his work at new clinics in the Port au Prince area.
Additional initiatives pursued by One Hundred for Haiti include: direct support for the villagers of La Source (a rural village near the city of Jacmel) in their efforts to empower youth in their village and also to help them in their dream of building a nursing station in the village. One Hundred For Haiti has initiated a micro-loan program to create jobs for young people in the area. This forms a foundation for education as it gives people hope, and not through gifts, but rather through personal empowerment.
In 2011, using social media, One Hundred for Haiti was part of a core team that organized a series of international events under the banner of "One Hundred Shows for Haiti". Shows and events were arranged in Leeds, Salt Lake City, New York City, Budapest, Seattle, Melbourne, Seoul Korea, Vancouver, B.C., and many more international cities. Having a network of events happening simultaneously connected a global community to a single cause. Events ranging from concerts, to movie screenings, restaurant promotions and public discussions were held to raise awareness and financial support. Noting the need for all possible support, all events were accepted as long as they were willing to be benefits. Youth around the world were motivated to join in to support the cause, and the events raised tens of thousands of dollars.
The work is ongoing! More about One Hundred for Haiti can be found at http://www.onehundredforhaiti.org