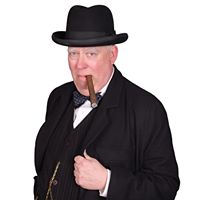 Winston Churchill's great grandson Jonathan Sandys perhaps says it best of all:     "I have heard many people attempt to play the role of my great-grandfather, but without hesitation, Randy Otto takes the role to a whole new level. Randy does not attempt to be Winston Churchill, Randy Otto IS Winston Churchill."
You will be able to question Winston directly in what Otto calls "AskWinston."    So get your questions ready.
Winston is here. He is ready. Ladies and gentlemen, the Emerald City Rotary Club  is proud to present your keynote speaker: Britain's Prime Minister Sir Winston Churchill!