I've been delinquent (one might better say "derelict") in posting on our club web-site. My computer index tells me that this is the first dispatch I've sent since May OF LAST YEAR. As a prolific writer and published author I've not done well in letting you know how and what I'm doing here in Central Asia.
Well, yesterday evening at the Bishkek Opera and Ballet Theater I put the cap on my first thirteen and a half months by enjoying a stunning performance (no surprise to me!) of Rachmaninoff's opera ALEKO. All through the season, since last summer, we've enjoyed superb opera and ballet – including several performances of Tchaikovsky's SWAN LAKE ballet and his opera IOLANTA.
As I was buying the notepad on which I am writing these words the shopkeeper met me with a common greeting –"Kak rabotat?" (How's your work?) I simply smiled and nodded, knowing that my work is going very well. I am a Visiting Professor of the English Language, the only person (faculty or student) who uses fluent English. Every day I am helping many to improve their use of English as I myself struggle to reach a minimal level of proficiency in Russian.
The high point of my first year on this university faculty was our presentation of HAMLET'S SOLILOQUIES by the University Girls' Drama Club. Our student body is almost entirely female and, as their drama coach, I can affirm that our girls did a magnificent job of declaiming some of the most difficult passages in English literature – ALL in the original language, except that we also included Hamlet's signature soliloquy, "TO BE OR NOT TO BE" also in Russian translation. For our students English is a third language, after Kyrgyz and Russian.
The picture below shows me with our Drama Club girls. If you should happen to be in Bishkek in October we plan lighter fare – a presentation of JAN'S EXCELLENT APPLESAUCE.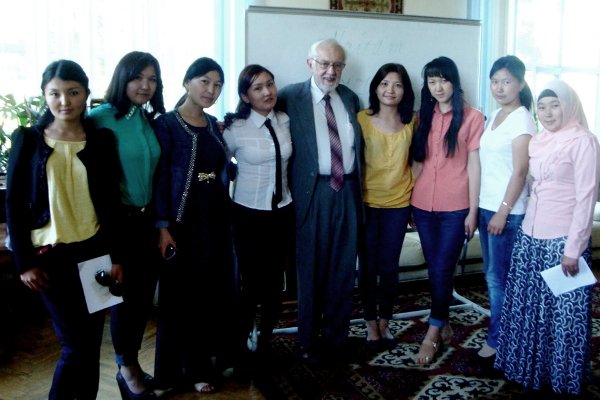 In my first months here in Kyrgyzstan I lived with a farm family in a village close to Bishkek. Then with a family here in the capital city. I am now in a small comfortable apartment close to Peace Corps headquarters. I go regularly (Monday and Thursday) to our medical clinic for a blood pressure check by one of our fine Kyrgyz doctors, and occasionally to meet with other staff.

We have fifty-five new people who arrived a couple of months ago and have been in training before being sworn-in two weeks from now as Peace Corps Volunteers. One other senior among them. At 75 he is a bit miffed to find that he is not the senior-most volunteer here. I am looking forward to celebrating my 80th birthday here in Kyrgyzstan.

I shall attempt to be more assiduous in keeping you abreast of my activities here in this beautiful city until I see all of you at our club meeting on the twenty-first of July next year.

Warren (known to some of my friends as "Vladimir", and using another nickname only with Peace Corps people here).

KYRGYZSTAN – a land of strong, confident people (which pleases me greatly!) and many beautiful, happy children(which does not augur well for the future of life on the planet. I maintain (in a novel – THE MESSAGE – which will be published and available from Amazon.com in a few weeks, and in another novel which will be published in September of next year) that two billion people is the optimum population for Planet Earth.